Building for Transformative Change
In 2023, we launched our National campaign to block rising authoritarianism & build a strong base for an enduring multiracial working class movement capable of winning transformative change. This campaign will expand the base of white people organizing to fight for justice and block anti-democratic actors and ideologies across the U.S.
Breaking the Power of the Right in the South:
The Right has long known that the key to controlling the country lies in its ability to control the South and, more specifically, its ability to prevent working class white people from forming powerful alliances with working class people of color. This strategy has been central to the far-right takeover of institutions and the un-democratic practice reflected the rise of white supremacist and fascist forces.
To break that hold, Showing Up for Racial Justice (SURJ) has identified the Southern region, and organizing with poor and working class and rural people there in particular, as a strategic priority for toppling white supremacy and advancing a progressive agenda nationally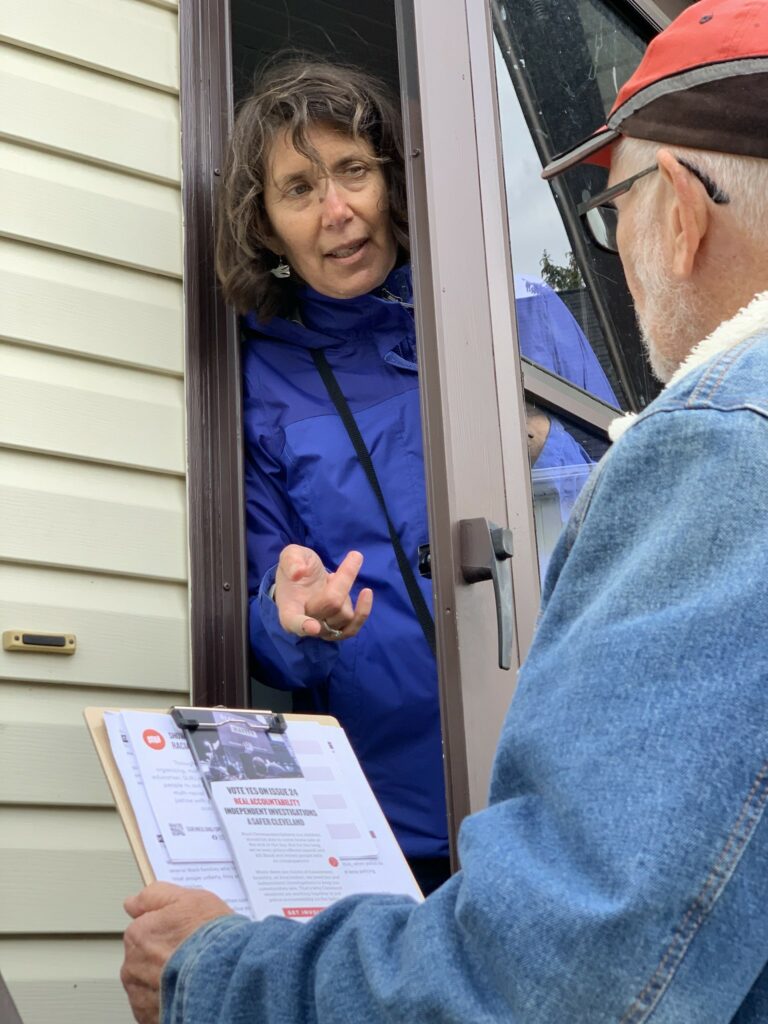 Southern Crossroads:
Southern Crossroads is a project of SURJ focused on small towns and rural communities in the South. We organize in the rural South to bring more poor white people into multiracial movements for justice and win concrete improvements in the lives of all poor and working people. In Tennessee and Georgia, SURJ's Southern Crossroads has launched long term, base building organizing work in majority white, predominantly rural, poor and working class counties.
Issue-Based Organizing In Kentucky:
The right's divide and conquer strategies have been deployed for decades in Kentucky, undermining progressive change on every issue in the state. Kentucky is overwhelmingly white and a high portion of Kentuckians are poor. As a result of white support for the status quo,
Republicans have been able to retain and expand their political power. This has devastating consequences for communities of color, poor white people, and for winning support for the issues that matter to working people, like housing, healthcare, and fair treatment.
From knocking on doors of working-class white people about ending cash bail in Louisville to building a base of residents in Appalachia who stick up for each other and fight for decent housing and welcoming schools, our Kentucky organizing projects build a base of people across the state for multiracial cross-region solidarity.
---
Bringing white people into action
Organizing white people into campaigns for justice is our lane in the multiracial movement for racial justice.
Our National Membership Program provides a structure for action and a political home for individual members, mobilizing our national base of over one million people.
SURJ's Chapter Network Program supports local organizing across the US and Canada. We have over 150 volunteer-led SURJ chapters & affiliates in nearly all 50 states who are active in civic engagement and issue based organizing.
SURJ members use community meetings, door knocking, phone banking, direct action and other tactics to expand the base of white people in fights for racial justice. Our strategy of moving white people into multiracial liberatory movements is possible due to deep partnerships with BIPOC-led movements at the local, state, and national levels.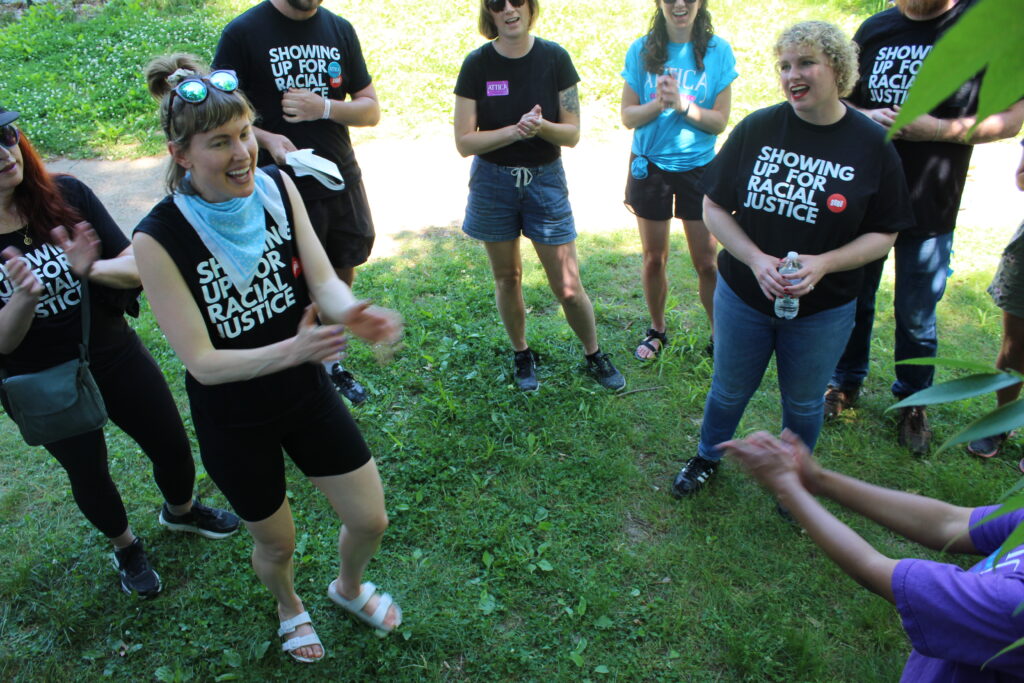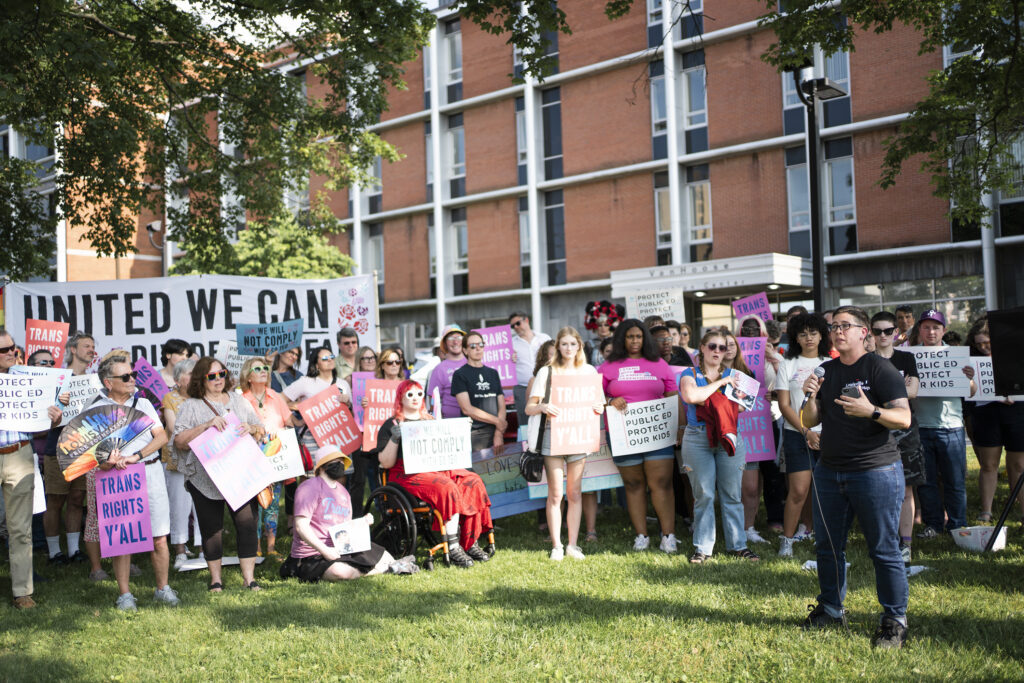 Strengthening Public Schools
At SURJ, we know schools are a cornerstone of our communities and an important part of democracy. Across the country, the far right is scapegoating and endangering trans kids and enforcing curriculums that teach lies about our country's history of racism. Meanwhile, the far right is underfunding schools and, in some places, working to replace them entirely with charters and privatization. Our National Organizing program supports members and chapters across the country to fight for welcoming, well resourced public schools and local communities where everyone – no matter our race, gender, or immigrant status – can live in a welcoming, thriving community.
---
Poor and Working Class Caucus
SURJ actively supports the leadership of poor and working-class people through our organizing focus and mission. We also hold a monthly Poor and Working-Class Caucus call to connect working-class chapter leaders in peer support and leadership development rooted in the lived experience of working-class communities.
---
Narrative Interventions
Culture powerfully shapes how we think, feel, and act, and it speaks to people faster than we can knocking on doors. That's why narrative interventions are a part of our national strategy to bring millions more white people into campaigns for racial and economic justice.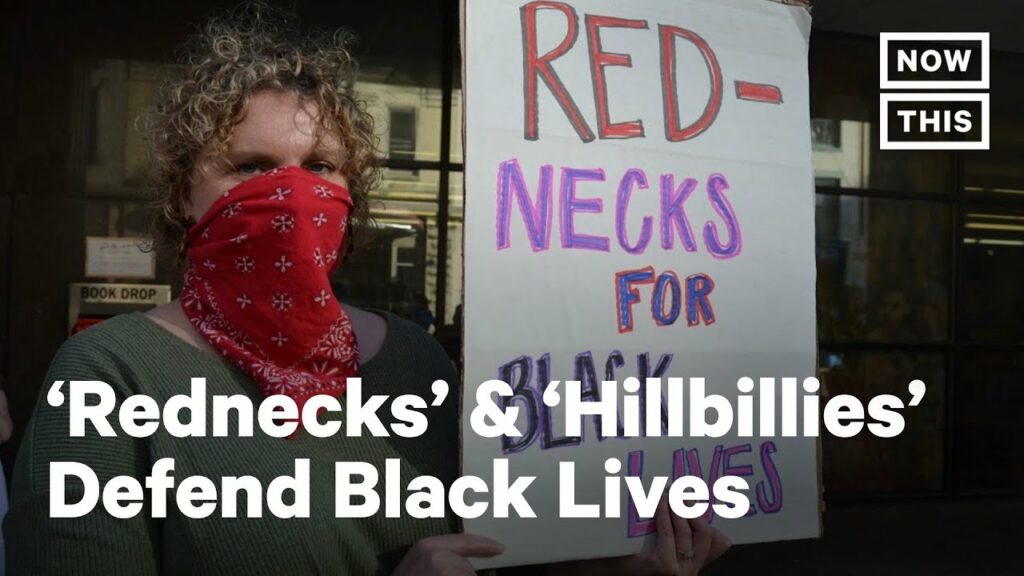 ---
Case Example: Rednecks for Black Lives
During the mass protests for racial justice in 2020, Beth Howard, SURJ's Appalachian People's Union Director, wrote "Rednecks for Black Lives," calling to her fellow redneck and hillbilly rural white Appalachians to support the Black Lives Matter campaigns, rooted in the history of cross-racial working-class solidarity in Appalachian history.
---
SURJ Faith
SURJ-Faith works to organize a multi-tradition base of white faith/spiritual leaders into racial and economic justice campaigns taking concrete action rooted in our shared interest in ending white supremacy.
We have strong movement partnerships with aligned people of color-led and multi-racial faith organizations working to dismantle white supremacy via economic justice and abolition, and/or undermining the Christian right. SURJ Faith is a space for white faith/spiritual folks of all traditions. Disaffected white Christians, especially those who are poor/working class, rural, and/or disabled, have an irresistible political and spiritual home in our work/movement. At SURJ Faith, we know white Christianity is the moral and theological backbone for white supremacy, and white Christians play a unique role in maintaining the racist status quo and why organizing white Christians away from white supremacy is a key part of our work.